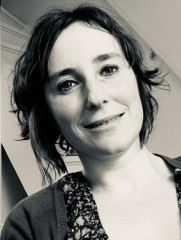 Speaker: Flavia Paganelli
CTO and Founder @30Mhz
Flavia is co-founder and CTO of 30MHz, a data platform for agriculture with a mission to grow food more sustainably and efficiently. At 30MHz, the challenges range from managing a fleet of thousands of devices to making beautiful visualizations for data, and let's not forget the terabytes of data that need to be always available and quickly accessible.

Before 30MHz, Flavia founded 9Apps, a cloud boutique which helped startups scaling their Amazon Web Services infrastructure. ​She gathered the experience with AWS in three books published by O'Reilly: Programming Amazon EC2​,  ​Elastic Beanstalk, and​ Resilience and Reliability with AWS,​ which she co-authored.  

Flavia also worked at TomTom, where she developed their web route planner, and then at Layar to build their mobile Augmented Reality app.      

With a background in Computer Science, Flavia has been building software in diverse industries, languages and teams for more than half her life, and she is not planning to stop.