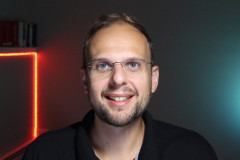 Speaker: Alex Porcelli
(He / him / his)
Sr. Principal Engineer @RedHat
Alex Porcelli is a Sr. Principal Engineer at Red Hat, Principal Architect, and Engineer Leader for Business Automation. Professional developer with more than 25 years of experience, Alex has been an active member of many open source communities for more than 15 years with contributions to projects like Drools, jBPM, Hibernate, and many others. Since joining Red Hat, he has served in individual contributor and leadership roles driving the Business Automation product line. Porcelli is also a frequent international speaker in tech events like QCon, JavaOne, CodeOne, Red Hat Summit, and DevNation.


Session + Live Q&A
In this panel we will bring experienced Staff-Plus Engineers to discuss key topics to help you in your career path:
What skills you need to develop if you want to be a successful Staff-Plus Engineer
What can you expect when you reach Staff-Plus status
How companies can support and incentivise professionals that want to stay in the technical career
How the future of the industry can be shaped by providing a clear technical career path
Session + Live Q&A
Your first contribution to an open-source project is an event to be celebrated. However, an isolated contribution won't have that impact on your career. The key to such an impact is to create a long-term engagement in the community.
Staff+ engineers usually create their own unique path to the role but rely on a common set of skills like written communication, the ability to focus on work that matters, contribute to the technical direction, and the art of influence. Staff+ engineer careers are not only made of skills; they also need to create impact.
In this presentation, you will learn how open-source contributions and long-term community engagement will help you build and sharpen these
critical skills and increase your impact to land and/or solidify your staff+ career.