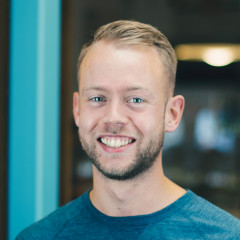 Speaker: Bart de Water
(He / him / his)
Manager @Shopify Payments Team
Bart works as a manager on the Shopify Payments team from Montréal, Canada. Over the last couple of years, Bart has helped scale Shopify's in house payment offering to more merchants in more markets and with support for more payment methods. Before moving to the cold lands of poutine and maple syrup, he was living in the Netherlands where he worked on things like government single sign-on and VoIP management systems.


Find Bart de Water at:
Session + Live Q&A
How do you enable millions of entrepreneurs to run their businesses on your platform? And how do you deal with product launches that suddenly bring millions of requests per minute from one moment to the next?

This talk will walk through how Shopify works under the hood using the customer journey from the initial visit to paid order as our guide. Then we'll dive into our multi-tenant architecture that allows us to add and rebalance shards with no downtime, prevent failures from taking down multiple systems, and prepare for the biggest multi-flash sale event: Black Friday.
Session + Live Q&A
Join Eder Ignatowicz of Red Hat as he explores architectural issues with a panel of experts from some of the world's largest architectures.