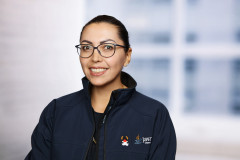 Speaker: Ix-chel Ruiz
(She / her / hers)
DA, Senior Software Developer @jFrog
Ix-chel Ruiz has developed software application & tools since 2000. Her research interests include Java, dynamic languages, client-side technologies and testing. Java Champion, Ground breaker ambassador, hackergarten enthusiast, Open Source advocate, author, public speaker and mentor.


Session + Live Q&A
Serverless has many advantages, to reap the benefits from this recent paradigm your application must tackle new challenges.
Testing and traceability introduce some new considerations that may take by surprise even the most seasoned Java developer.
In this session we will explore good practices, tips and lessons learned to make our release to production less exciting than watching paint dry.
Session + Live Q&A
New Java is a bit like old Java, but it's faster, nimbler, changes often, and is designed for the cloud. What does this mean for us? Can we continue developing Java the same old way, or do we need to be adapting? And if so, how? How do we keep pace, while staying secure? What changes should our organisations be making, and what's next on the horizon? Join the Modern Java track speakers for a lively discussion of trends, traps, and tricks.