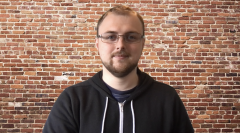 Speaker: William Overton
(He / him / his)
Senior Serverless Solutions Architect @Fastly
 

William Overton is a Senior Serverless Solutions Architect at Fastly where we're working on the future of edge computing. His main focuses are helping customers adopt (and get excited about) WebAssembly and Serverless Computing. In his spare time Will likes trying out new technologies and listening to techno music.


Session + Live Q&A
About 10 years ago Fastly was founded with the goal of bringing developer's applications as close to users as possible.
In this talk you'll see why WebAssembly is the next big step on our journey to computing at the edge. Learn about our edge computing platform, Compute@Edge, and upcoming developments in the WASM ecosystem such as WASI and the Component Model.
Session + Live Q&A
Most people have heard of Rust, due to the vibrant and happ[y community around the language, exemplified by it having held the top spot as the 'most loved' language in the Stack Overflow developer survey for the past six years. However, few of us get the chance to use this delightful language in our day-to-day work.
WebAssembly is a new runtime, born in the browser, yet making a significant impact as a versatile runtime for a wide range of applications (FaaS, blockchain, plug-in).
There is a close synergy between WebAssembly and Rust - Rust is both an ideal language for writing WebAssembly applications and for creating WebAssembly runtimes. In this panel we'll explore this synergy, and see where the combined might of WebAssembly and Rust might take us.