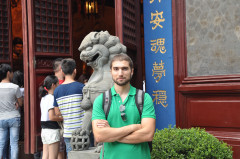 Speaker: Manos Karpathiotakis
(He / him / his)
Software Engineer @Meta
Manos is a software engineer at Meta, where he has worked on Scribe - Meta's data transport service - for the past four years.

He obtained a PhD from EPFL, focusing on efficient ways to query heterogeneous data through the use of techniques such as runtime code generation and GPGPU data processing.

Before that, Manos worked as a scientific programmer in the context of spatiotemporal data management.


Find Manos Karpathiotakis at:
Session + Live Q&A
Meta's hardware infrastructure comprises millions of machines, all of which generate data. The overall traffic generated reaches several petabytes every hour, while its processing typically takes place somewhere other than where it was originally generated. The task of collecting, aggregating, and delivering this traffic volume (with low latency and high throughput) requires a systematic approach. This talk will go through the architectural evolution of Scribe, a data transport service that encapsulates all the complexity behind moving data from point A to point B in streaming fashion.