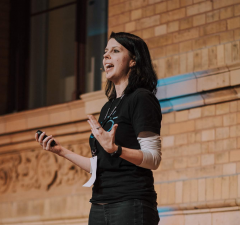 Speaker: Holly Cummins
(She / her / hers)
Quarkus Senior Principal Software Engineer @RedHat
Holly Cummins is a Senior Principal Software Engineer on the Red Hat Quarkus team and a Java Champion. Before joining Red Hat, Holly was a long time IBMer. In her time at IBM, Holly has been a full-stack javascript developer, a WebSphere Liberty build architect, a client-facing consultant, a JVM performance engineer, and an innovation leader. During her time in the IBM Garage, Holly led projects for enormous banks, tiny startups, and everything in between. Holly has used the power of cloud to understand climate risks, count fish, help a blind athlete run ultra-marathons in the desert solo, and invent stories (although not at all the same time). Holly is also an author and regular keynote speaker. You can follow her on twitter at @holly_cummins or at hollycummins.com.


Find Holly Cummins at:
Session + Live Q&A
How can you make a success of microservices? How do you know whether it is the right approach for you?
Microservices trade development complexity for operational complexity, but when is that the right trade off to make? And what are the most important things to keep in mind if you want to be successful?
Join our panellists Holly Cummins, Stefania Chaplin and Nicky Wrightson as they share what they've learned about building, operating and securing microservices.